10 beliefs we stand by. Since 1928.
The perfect espresso
The perfect espresso is only possible with great passion and care – and the quality of an outstanding machine. There is one brand that is mentioned among gourmets and connoisseurs time and again when it comes to espresso machines that satisfy the highest demands: Olympia Express. Mind you, this is hardly surprising: thanks to its unique steadiness in temperature and pressure, the "Rolex of espresso machines" releases incredible nuances in flavour. Crema, aroma and flavour combine to form an unforgettable and perfectly balanced coffee experience.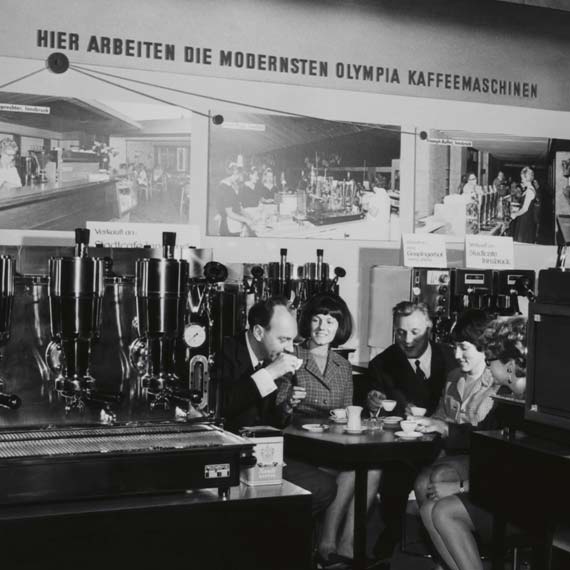 Olympia trade fair stand around 1940
Advertisement for the Olympia "Buby", 1950s
Each and every one of our machines is built with the expertise and experience of more than 85 years of manufacturing espresso machines. Around 1930, Luigi Bresaola (left of the table) started designing the first espresso machines for cafés and restaurants under the name Olympia Express. His son continued his pioneering work and developed the family enterprise into a manufacturing company of worldwide renown. Building on this success, we then took the traditional brand Olympia Express into the 21st century. However, we have remained a small but highly respected manufacturing company based in Switzerland with a strong sense of quality and tradition – and we are proud of that!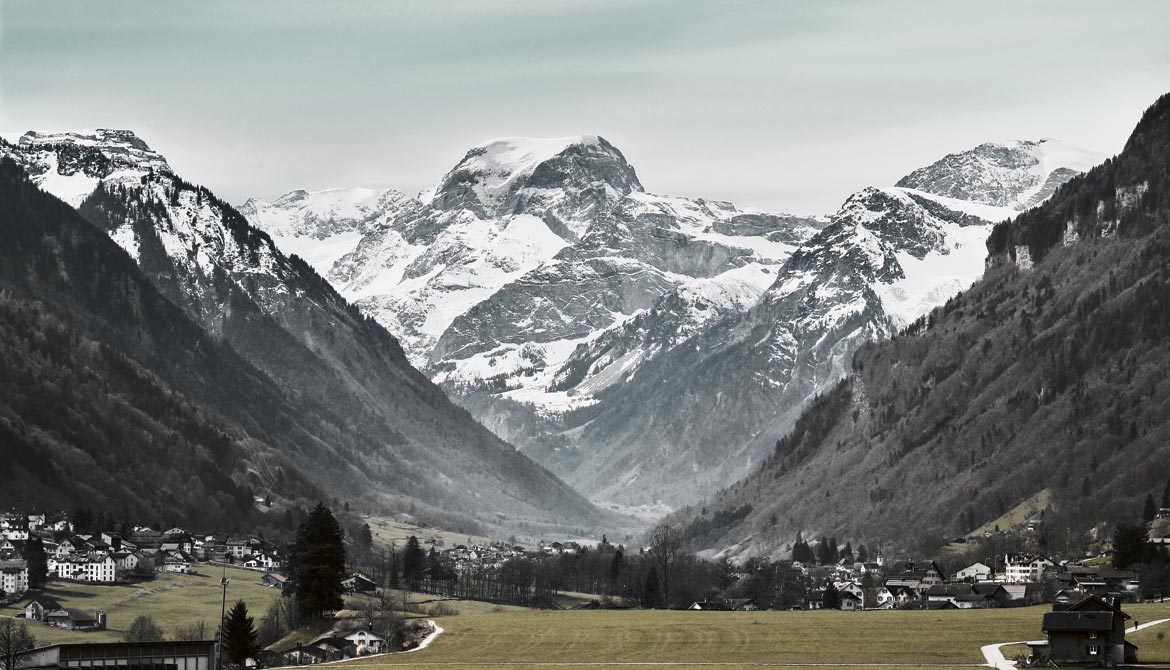 A view of the Tödi mountain
Every little touch is guaranteed to bear the hallmarks of Swiss engineering and handicraft par excellence. At our manufacturing plant, the espresso machines are put together by skilled masters in this complex field, as has been our tradition for decades. The engineers and mechanics still practice the traditional Swiss values, paying close and loving attention to even the smallest of details with passion and Swiss precision. The photograph above is the view from the window of our manufacturing plant looking out towards the Tödi mountain in the canton of Glarus.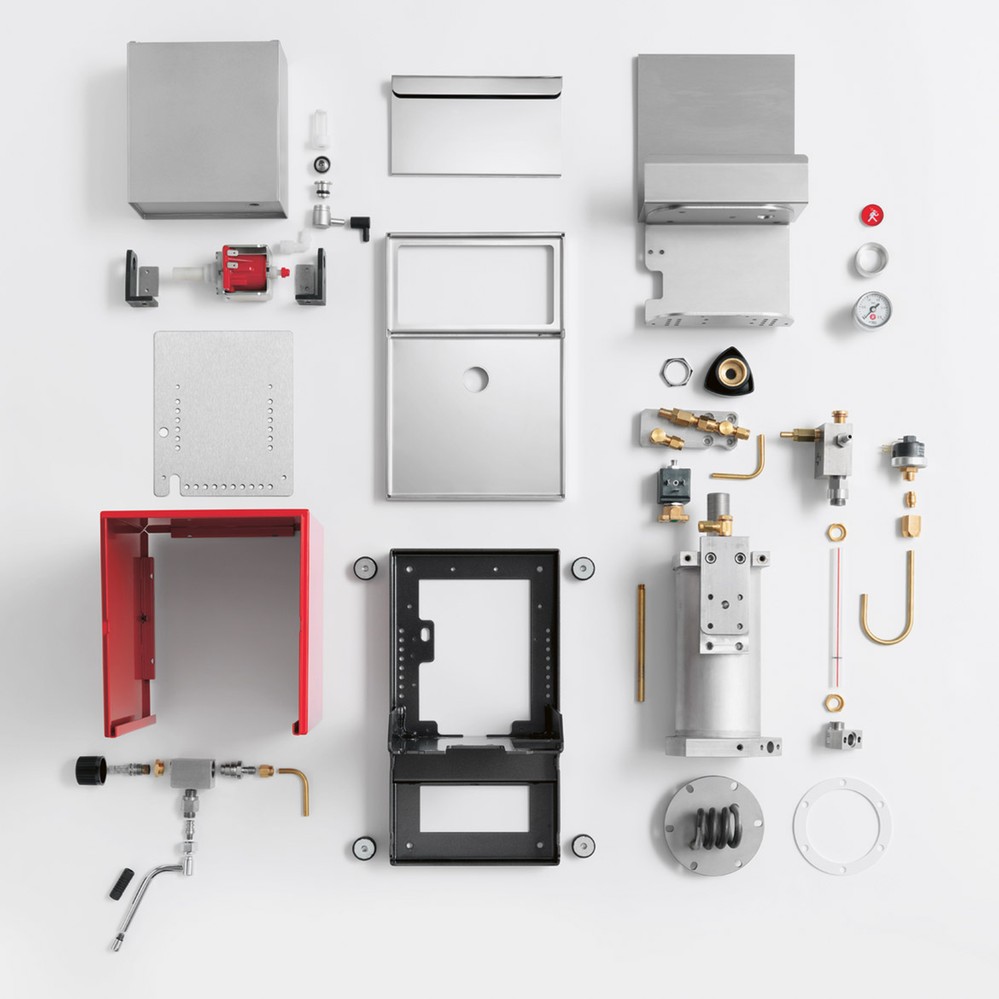 Materials used in a Maximatic
For more than 85 years, achieving perfection with regard to materials and finishing has taken top priority in our work. Espresso machine purists are also thrilled with the solidly built chassis. Inside, we use nothing but stainless steel, chrome and brass – even the boiler is made from chrome steel. The group head and the portafilter are made from brass, of course chromed and polished to a high shine. The same goes for extra long steam wand and steam nozzle. Except for the boiler, nothing here is soldered or welded. Everything can be fitted into the machine or removed in just a few simple steps.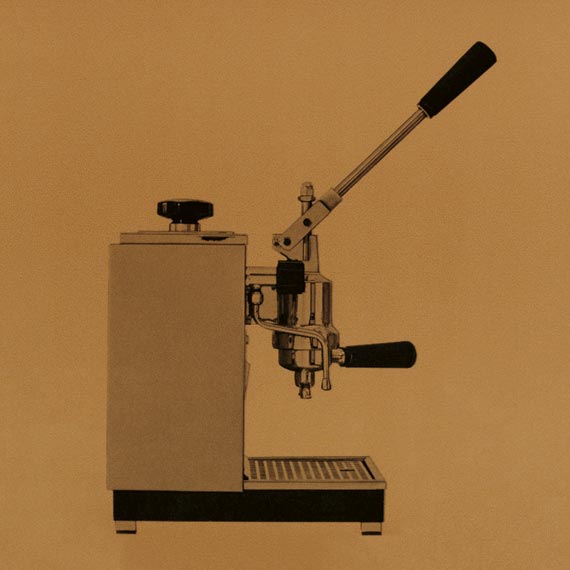 Cremina 1967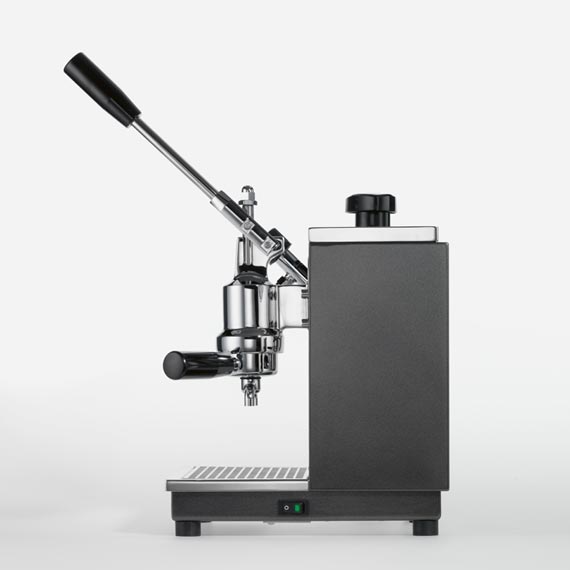 Cremina 2008
The simple design of our machines has hardly changed over the decades. Why should it? Olympia Express has created unique icons of espresso culture, their timeless design still delighting connoisseurs to this day. All over the world, we are praised for the grace and elegance of our machines which reflect the best of Swiss design tradition. Renowned museums such as the Pinakothek der Moderne in Munich now include Olympia Express in their select design collection.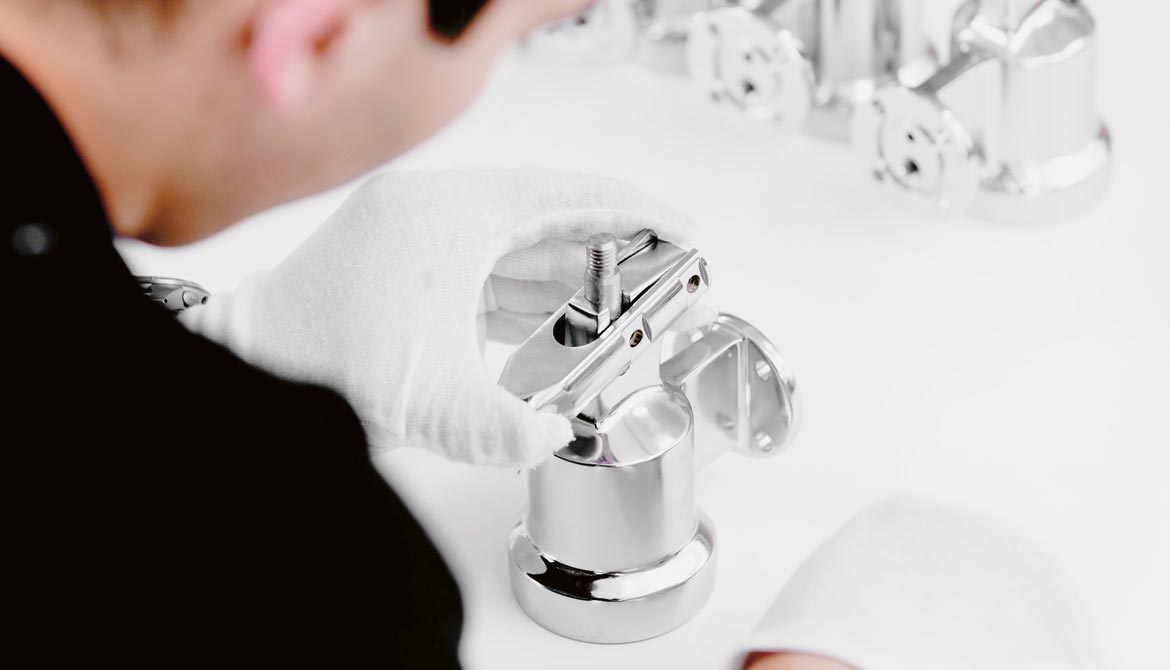 Assembling the brew group
For us, sustainability is more than just a trendy buzzword. We've been following this philosophy for decades. Our machines are reliable, always repairable and have an extremely long service life. Every day we receive letters and emails full of praise from impressed customers all over the world. Some of them have been making their espresso with the very same Olympia Express machine for 40 years! It goes without saying that we still have spare parts for the old models in stock.
«We don't want to build a machine to last three or four years but one that lasts three or four generations.»
— Thomas Schätti, owner Olympia Express AG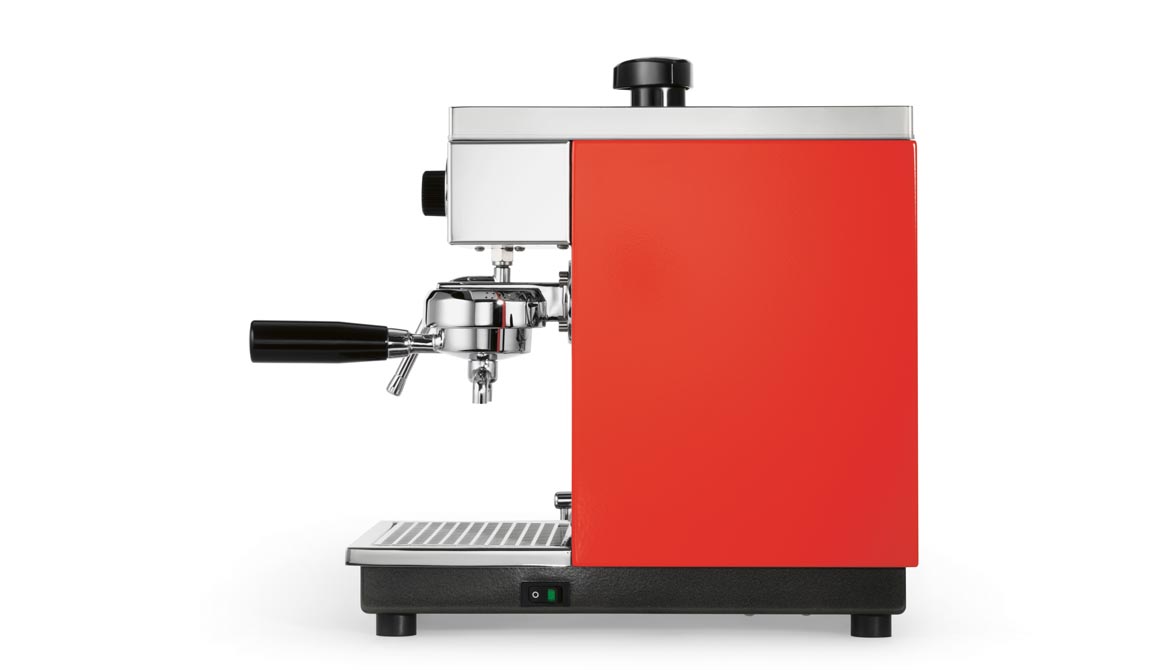 Maximatic, the smallest dual-circuit machine in the world
We feel that great craftsmanship can also be modest in appearance. Not only are our espresso machines of unique quality and extremely beautiful, they are also astonishingly compact and fit into every kitchen. Our Maximatic is the smallest dual-circuit machine on the market worldwide.
Making the chassis
We build espresso machines of the highest quality for coffee lovers and connoisseurs. Our machines are for people who see preparing the perfect espresso as the expression of a culture and way of life, rather than just a quick moment of enjoyment. This is why our espresso machines do not bleep or throw out plastic capsules. Some call it old-fashioned, we call it uncompromisingly simple.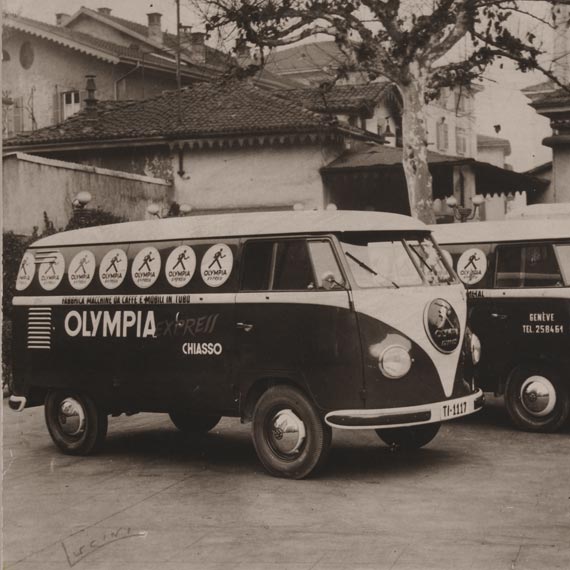 Olympia company vehicles, 1950s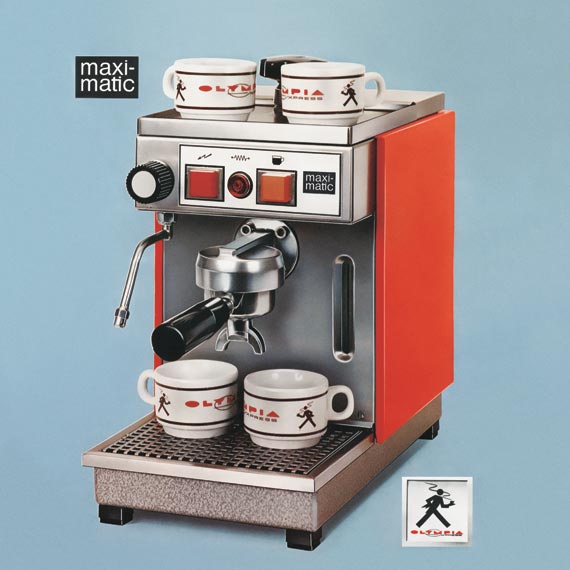 Maximatic, 1974
Our customers love their Olympia Express. Baristi praise its uncompromising quality. In the ever-growing number of blogs dedicated to espresso culture, our machines are revered as cult objects. We are delighted to hear so many words of support and encouragement from people who share our passion.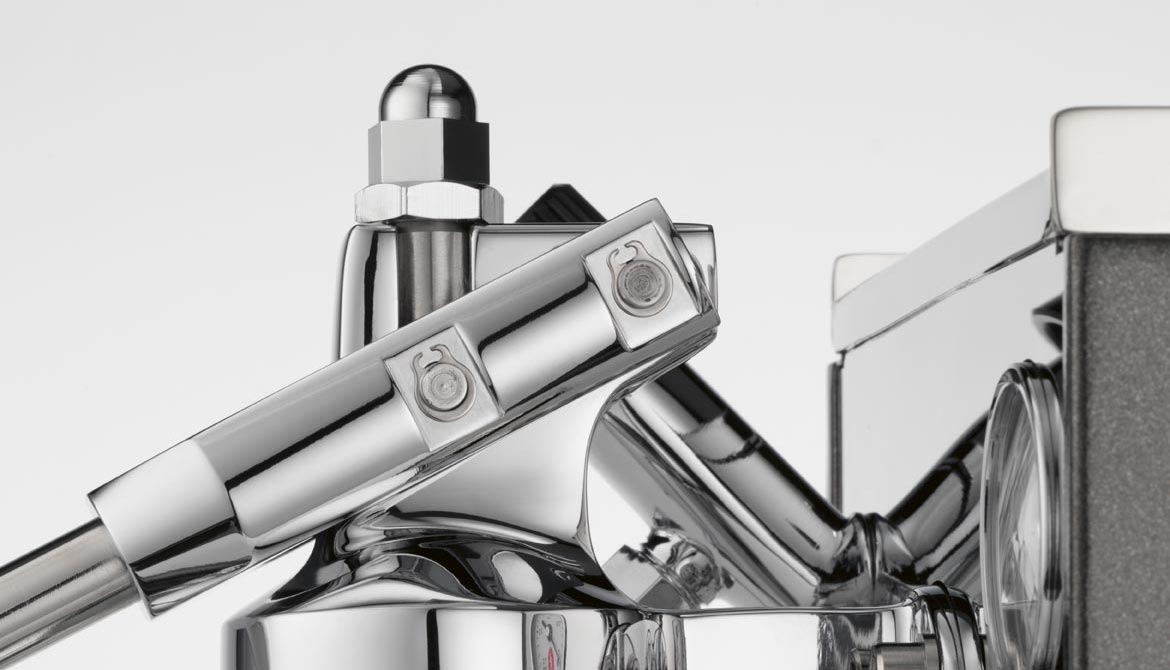 Cremina brew group, chromed brass
Yes, espresso machines by Olympia Express have their price. However, they are worth every Franc. Owning an Olympia Express means having a product that cannot be matched in craftsmanship, taste or flavour. And it lasts for ages. Once you are a proud owner of an Olympia Express, this will be your only machine for a very long time. Unless you need a second or third one…
Find out which of our machines matches you best! You are welcome to do this in person on site at a retailer near you.